For the corporate canteen
LunchMate is not just for sandwich bars.
As the prime objective of LunchMate is to reduce queues, it also lends itself very nicely to corporate staff canteens, because they also suffer from the same problem of large queues due to the staff purchasing their food at the same time.
With this in mind, we added a few extra features to LunchMate to make it more adaptable to the staff canteen:
A Token system - A canteen can sell tokens for any amount through their own money-taking mechanisms. The user simply enters the code into the app and is imediately credited with the appropriate amount.
Daily Menus - A lot of canteens have different menus for each day of the week. We have added this functionality into LunchMate.
Publish / Un-Publish food items - This works well with the Daily Menus feature.
Outlet hidden from the casual user - For example, the Epson staff canteen at their head office in Hemel Hempstead is not visible to the standard LunchMate users. The staff at Epson are given a special code which they enter into LunchMate and the Epson branding and menus are imediately loaded into the app.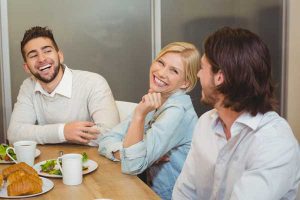 Look at these delightful business workers in their staff canteen!
See how happy they look!
They are all smiling because they did not have to queue to purchase their lunch. They all use the LunchMate app!
Think how much more productive your staff will be when they are stress-free, smiley, and big full tummies.
LunchMate - It's Sandwichtastic!