LunchMate helping with 'Social Distancing'
An article from our regular Newsletter
This article appeared in our 11th June 2020 Newsletter.
Here at Tasty Apps, we've been looking ahead to when the COVID-19 lockdown starts to be eased and then lifted. It looks as though life's going to change, to some degree, and we're all going to have to get used to living with the potential ongoing consequences of this virus.
Fortunately, we have some great new features in LunchMate, which will help you and your business comply with the social distancing rules that are looking likely to be with us for some time.
Yes, things are likely to change - but we're here to help you adapt.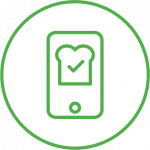 LunchMate was originally designed to reduce queues and make life simpler for you and your customers at any time - but especially during your busiest times.
As your customers begin to return to work after the lockdown, you can reduce those queues by encouraging them to pre-order their food using LunchMate. This will allow you to process more orders and comply with social distancing guidance at the same time. Additionally, because the payment is made in advance, all interaction is eliminated.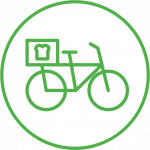 In the new version of LunchMate, there's now a delivery option that can be made available to your customers. Clearly, that may not suit every business but if it does fit in with your plans, we've made it really simple for you to set up.
Of course, it's up to you whether you choose to make a charge for delivery, offer free delivery on orders over a specific value or on all orders.
Your customers will be able to store multiple delivery addresses, giving them the flexibility to specify delivery to their office, their home or any other appropriate address.
LunchMate Dashboard App
The LunchMate Dashboard is a new app designed for you and your staff and it's now available on the App Stores. It works in 2 different ways depending on whether it's being run on a tablet or a smart phone:
Tablet - All the days orders are displayed in one column on the dashboard, and as they are processed they move into another column, enabling you to clearly see order progression.
Smart Phone - Your delivery driver(s) can see the list of orders on their phone. They use the phone to scan the QR code on the receipt attached to the order. This automatically sends a message to the customer to let them know their order is on its way. Your customer is able to track the exact location of the delivery driver on a map.
Office Delivery
Coming soon is another new feature: Let your customers know that you can deliver direct to their desk! All they need to do is specify the location of their office/desk.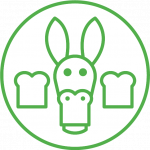 Here's another 'queue-busting' feature from Lunchmate: Lunchmule!
Although LunchMate helps reduce queues with its pre-ordering features, you can sometimes end up with lots of customers waiting to pick up. With LunchMule, multiple customers within one office location can nominate one colleague to collect all of their food orders. This offers more help with maintaining social distancing on your premises and enables your customers to make more efficient use of their time during their lunch breaks.
Here's how it works:
Alice places her order using LunchMate - she receive order number 952
Bob, Carole and Dave place their LunchMate orders. However, at the order confirmation page they specify that Alice will pick up their orders.
Alice receives requests to become the LunchMule for her colleagues orders and she agrees.
You and your team receive all the orders, but can immediately see that they're to be grouped together for a single collection.
Alice picks up all four orders in a single collection: her own order 952, but also 952-a, 952-b and 952-c for Bob, Carole and Dave.
This process ensures that everyone placing an order is in agreement, that you and your team know these orders should be grouped together - ready for quick collection - and that there isn't any confusion. Having a single person pick up multiple orders means even fewer people entering your shop which, in turn, helps with social distancing.
We have just submitted the latest version of LunchMate to the App Stores. This new version includes the LunchMule feature.
Social Distancing Made Easy with LunchMate
It looks like social distancing is going to be with us for a while and LunchMate offers a range of options, all of which have a positive impact on social distancing and the measures you will need to put in place to protect you, your team and your customers whilst on your premises.
Getting used to a new way of doing things is never easy but it's going to be far more simple with LunchMate.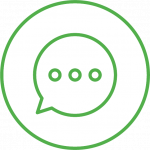 "At PARTNERS IN PURCHASING, we see LunchMate as being very helpful in maintaining social distancing. The pre-payment of orders allows secure contactless transactions between kitchen and consumer.
The consumer has confidence that their menu choice will be processed correctly, and the kitchen becomes more efficient with their stock ordering, thus reducing waste."
Diana Spellman - Managing Director – PIP Ltd

If you have any ideas for LunchMate features which you think will help with social
distancing requirements, please get in touch. We may find these new ideas are
easy to add into subsequent LunchMate versions.